We have some expected bad eBay news to report. eBay's Gross Merchandise Volume (GMV) is in the toilet.
eBay Growth Turns Negative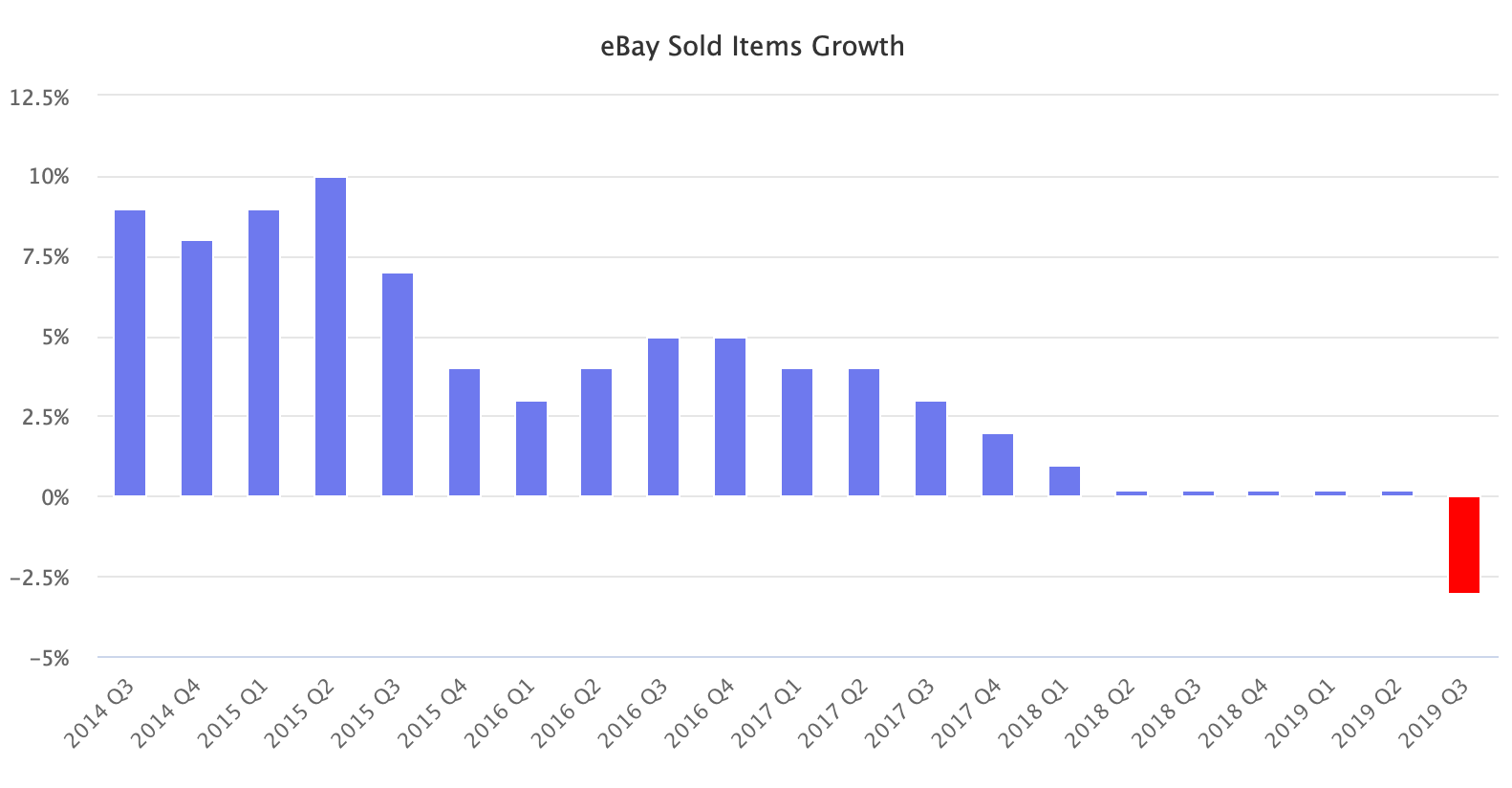 eBay GMV was down by $1 billion, and the sold items growth has turned negative for the first time in the company's history. The company reported $20.4 billion in GMV in Q3, down -5% year-over-year from $21.4 billion on an as-reported basis and -2% on a foreign exchange (FX) neutral basis. Sold items growth was -3%; it hasn't grown since 2018 Q1.
They want to blame internet taxes, but we all know that's a scapegoat.
If organic search is broken AND the checkout is broken, how exactly do you expect to sell anything? Can we take cash & money orders again? Please?!
Not to mention eBay giving the bird to Google and announcing that they're going to rely on social media, including our own, for marketing. Recipe for disaster.
While this confirms everything that we've been seeing, it also makes you feel a little helpless on the platform. It's not us, it's them.
https://www.marketplacepulse.com/articles/ebay-growth-turns-negative
eBay: Core Business Continues To Rot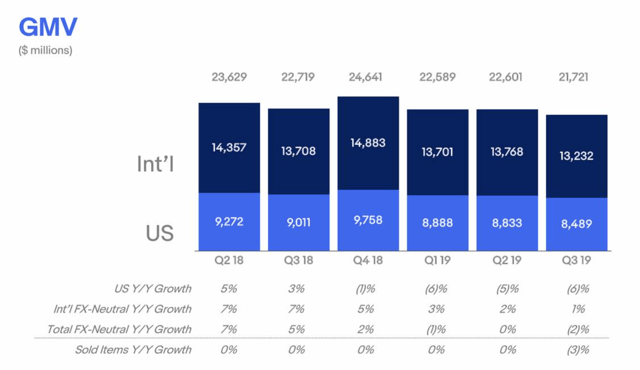 With eBay also shedding non-core divisions such as StubHub, there is little room for the company to grow beyond its primary auction platform. And who, these days, really prefers auction-style buying when virtually anything can be bought from Amazon and arrive at your doorstep two days later?
As I've stated in the past, normal people DO NOT see eBay as a store marketplace at all. We know better, but this is the reality…many people still think that it's an auction site or a flea market or a yard sale.
But this person inadvertently points out what could save eBay. SELLING THINGS THAT AREN'T AVAILABLE ON AMAZON. Nor via any other "normal" retailer for that matter. Amazon tried those areas and failed.
Looking over what I've actually sold on eBay lately, I think only one item is available on Amazon. And it's a recently out of print item that I bought in bulk as another small business decided to clear them out. Beyond that, it's almost all rare, vintage and antiques selling. Always buy it now.
All metrics point to the harsh reality that both buyers and sellers are defecting from eBay.
I cannot argue this point at all.
That said, Poshmark & Etsy can be good alternatives, but they're limited. Mercari doesn't have the audience. In my opinion, Facebook is poor for online selling but can work for local. And honestly, local may be where it's at for those of us in larger areas.
https://seekingalpha.com/article/4298586-ebay-core-business-continues-rot
Other eBay Notes
eBay Q3 2019: $310 million net.
eBay Q3 2018: $721 million net.
So in Q3 eBay's net went down $137 million PER MONTH!
While GMV is really the number we as sellers are concerned about, take into consideration that these net numbers include promoted listings and final value fees (some of which increased).
I hate to be the bearer of bad news, but this really isn't looking good at all. I can only imagine how much further it has gone down in October due to all of the glitches and an even worse search engine.
And I seriously hate seeing this. But my patience has run out. I'll give it one more month and if November goes like October has (as of the 25th only 17 sales out of ~1,000 listings), the final store we have will be getting closed in December and we'll just list 150 items a month (we have 3 accounts) on eBay until they get with the program or close their doors, whichever comes first.