What Sold On eBay
On Tuesday, March 26, 2019, I sold three items on eBay.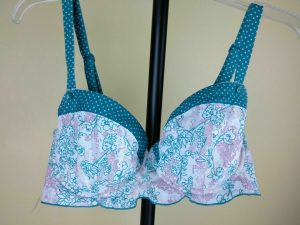 1. I sold a Freya Floral Print Balconette Underwire Bra at the full asking price.
I'm pretty sure this was picked up at a thrift store, probably in the spring of 2018 when I was buying clothing to sell. It was listed in June 2018, so it wasn't a fast seller by any means.
Fellas, I have learned over the years that you need to make sure the underwire and elastic are in good shape and to check for any holes around the underwire. And if a bra or bikini top has certain types of attachments, such as straps that can be removed, make sure they're not ripped or missing.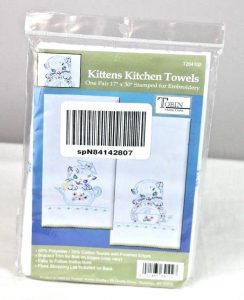 2 & 3. I sold TWO Tobin Kittens Kitchen Towels Stamped Embroidery Kits, one at the full asking price and one via best offer.
These were purchased last year in an Amazon liquidation lot (see the sticker still on them) and listed in August 2018.
I had 9 of them and one sold in October 2018. Then yesterday two sold, which has an odd similarity that I'll get to next.
Missouri Loves Me! (Or Is eBay Messing With Me?)
When the first Tobin order came in yesterday I didn't think much of it other than, "Cool, I finally sold another one of those." But when the offer came in a few hours later I noticed that it was the from the same state, Missouri. When I see that it is sometimes the same person just wanting an additional one for whatever reason. So I looked and sure enough, it was a different person. Odd, I thought, but whatever, that's cool.
Then I looked closer at the bra order on one of our other stores and guess where that was going? Missouri!!!
These are the type of coincidences that eBay selling conspiracy theories are made of. Are they hiding listings? Are they targeting specific locations? How does an item sit for months and then have multiple sales in a single day? How closely are our eBay stores linked together? Why don't we routinely see sales from all 50 states, but instead the same few states over and over again?
The list of thoughts go and & on, but is there some truth in there? Or is it all just happenstance? I don't know, but that is very strange.
What's Selling?
What did you sell yesterday and on what platforms? How are your sales going?